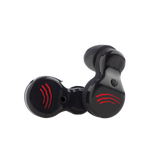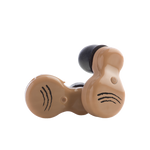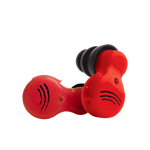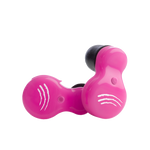 SportEar Ghost Stryke II Electronic Ear Protection
Regular Price

$599.00

Sale Price

$599.00

Regular Price

Unit Price

per
The world is ready for the first ever, ear muffs without the muff! Hear everything around you except the loud boom of the gun. Imagine being in the field or on the range, listening to everything going on—conversation or the game you're stalking—while knowing you are protected from hearing loss...
The Ghost Stryke II enhances your hearing up to 8x, protects your hearing from sounds louder than 85db, and allows you to maintain good cheek weld. They are universally fitting earplugs that make electronic ear muffs a thing of the past. We use reprogrammable hearing aid and noise suppression technology to amplify what you want to hear and suppress what you don't, even background noises.

Being able to increase or decrease the volume in both ears separately lets you customize your hearing experience. This also allows you to maintain your natural binaural hearing to recognize direction of sound. No need for fitted molds or programming. Ready to go out of the box; add the batteries and the appropriate tips for each task; then set the volume control at your preference. Replace damaged or lost tips easily with the purchase of additional foam (30dB), silicone (24 dB), or tulip tips (0 dB).
Ergonomic fit for comfort while staying secure and discreet inside your ear
Volume wheels and circuitry are controlled independently for both ears to let you control what you hear
Powered by (2x) 10a Zinc Air batteries (batteries included)
Included: (2x) Ghost Stryke II electronic ear plugs, (2x) pairs triple flanged silicone tips, small and large, (2x) pairs Comfort Foam™ tips, small and large, (2x) tulip tips, Securefit™ Extenders, cleaning brush, protective carrying case, (6x) batteries, and user manual
Manufacturer's one year warranty
Made in the USA
Shooting indoors and outdoors (Recommended doubling-up shooting indoors)
How

 

can you use GhostStryke?
Hunting
Military
Police
Shooting sports
Industrial Noises
Sporting Events
Workshops
Concerts
The Ghost Stryke II is ideal for tactical, industrial, safety, auto-racing, concerts, and sporting events. They are also useful for any other application that requires you to maintain optimal hearing advantage in a potentially damaging environment.
Enter the content to use inside the accordion panel selected.